About Me
Dunedin, Aotearoa New Zealand
I have been writing educational articles for health professionals in primary care for more than a decade. My aim is to provide succinct clinical guidance that is patient-centred and backed by the best available evidence. Long-term conditions and reducing disparities in healthcare outcomes are my principal areas of interest.
I am also an experienced medical editor and have been involved in the production of numerous prescribing reports and clinical audits. My AMWA membership began in 2012 and I have been on the Executive Committee since 2016.
I am always open to new ideas and happy to discuss any potential project big, small or out of left field!
Location:
Dunedin, Aotearoa New Zealand
Qualifications:
BSc (Hons I) - neuroscience
Experience:
Medical writer at bpacnz (2011-2020)
Acting Managing Editor bpacnz (2016)
Freelance medical writer (2020-present)
Member AMWA Executive Committee (2016-present)
Writer Categories:
Consumer Education. Writer. Health Professional Education. Proofreading.
Specialty Topics:
Chronic Health Conditions. Evidence-based Medicine. GP Education.
Contact Details: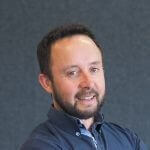 Mark Caswell