About Me
Sydney
I'm an experienced medical writer who understands the industry.

I write for health professionals and consumers, and specialise working with medical communications agencies, pharma and medical education providers.

I'm familiar with Medicines Australia's Code of Conduct, Good Publication Practice guidelines and the role of the professional medical writer.

I'm a medical writer by title, but see myself as a problem solver. I can also edit, proof, revise outdated content, check evidence, develop a template, or help you come up with a new concept.
Location:
Sydney
Writer Categories:
Consumer Education. Doctor. Editor. Pharmaceutical. Promotion/marketing. Researcher. Writer.
Specialty Topics:
Asthma. Cancer. Chronic Obstructive Pulmonary Disease (COPD). Nutrition. Osteoporosis. Multiple Sclerosis. Age-Related Macular Degeneration. Alzheimer's Disease. Anaemia. Atrial Fibrillation. Atypical Haemolytic Uraemic Sydnrome. Depression. Dry Eye Disease. Osteoarthritis. Overactive Bladder Syndrome. Paroxysmal Nocturnal Haemoglobinuria. Tuberculosis.
Contact Details:
mattpaul.cunningham@gmail.com
0426991040
https://www.outforreview.com/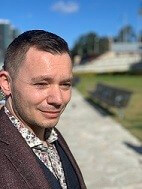 Matthew Cunningham