About Me

I'm Nerissa Bentley and I'm The Melbourne Health Writer.

I'm a degree-qualified, professional writer with more than 25 years' experience writing for a variety of industries, but have specialised in writing health content for over 9 years.

I deliver high-quality, evidence-based and thoroughly researched health and medical copy. All content is sourced from credible health institutions and organisations, and draws upon the latest research, including peer-reviewed journals. And all copy includes a list of references.
Writer Categories:
Consumer Education. Promotion/marketing. Writer.
Specialty Topics:
Contact Details:
nerissa@melbournehealthwriter.com
0414836732
https://www.melbournehealthwriter.com/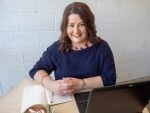 Nerissa Bentley