About Me

I'm a freelance Senior Medical Writer/Copywriter/Editor who specialises in helping global pharmaceutical and healthcare companies grow by crafting medical content for websites, brochures – the list goes on!
Writer Categories:
Clinician. Consumer Education. Doctor. Editor. Pharmaceutical. Promotion/marketing. Writer.
Specialty Topics:
Animal Health. Diabetes. Haematology. Immunology. Infant Formula. Medical Devices. Oncology. Rare Diseases. Virology.
Contact Details: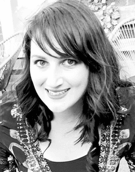 Danielle Camer