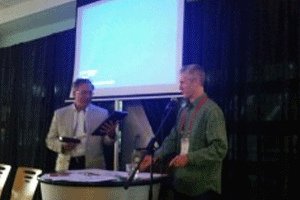 Please complete our post-conference survey
The 2015 Australasian Medical Writers Association conference was held over the weekend in Brisbane. It was a fantastic conference with an incredibly fascinating and diverse range of topics.
Sessions explored everything from the complex choices surrounding death and dying to new frontiers in biotechnology – as well as the future of medical publishing in the online world.
Thank you to all those who presented and attended our workshops, sessions and dinner. Thanks also to our sponsors (listed on our conference page), conference organisers and conference committee. A huge amount of work goes into producing this conference – mostly by volunteers – and everyone involved did a wonderful job.
Post-conference survey – attendees
We would greatly appreciate it if you could complete this short survey about your experiences at this year's conference. Your feedback will help us to ensure that we deliver a valuable conference in Auckland next year.
COMPLETE THE POST-CONFERENCE SURVEY
Post-conference survey – non-attendees
If you weren't able to make it to the conference this year, we would appreciate it if you could complete this very short questionnaire so we can help to address any barriers.
COMPLETE THE POST-CONFERENCE SURVEY FOR NON-ATTENDEES