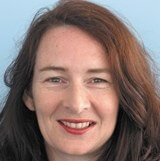 Award-winning medical editor to run conference workshop
AMWA is honoured to have award-winning editor Barbara Fountain presenting a PDP workshop at our annual conference in Auckland this year.
Her workshop, Writing a killer intro – hooks and headlines, is one of four PDP workshops on offer at the 33rd AMWA conference, which will be exploring issues related to modern health communication.
Barbara won the inaugural Editorial Leader of the Year award, announced at the 2016 Canon Media Awards in late May, and bestowed in Barbara's 20th year of service to New Zealand Doctor.
Her workshop provides a unique opportunity to learn from one of Australasia's finest health editors.
Find out more about our annual conference and Barbara's workshop here.
About Barbara
Barbara graduated with an honours degree in biochemistry and worked in medical research and then scientific publishing before completing a postgraduate degree in journalism in 1989.
She was a reporter for the Otago Daily Times and then the now-closed Independent Business Weekly before starting with New Zealand Doctor.
Read more about Barbara's recent award here.