Brisbane Networking Event
Date: 18 Mar 2021, 6:00pm - 8:00pm (GMT+10:00) Brisbane

Join AMWA committee member, Eve Vickerson for a relaxed and informal gathering in Brisbane!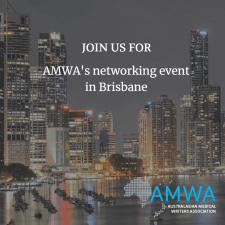 When: Thursday, 18 March, 6–8pm
Where: Corbett & Claude, 283 Elizabeth St, Brisbane CBD.
Cost: There is no cost to attend. Drinks and nibbles will be provided by AMWA, however feel free to purchase something should you require something more substantial.

Everyone is welcome - AMWA members or not. Please follow COVID-safe guidelines and do not attend if you are unwell.

If you have any questions, please email marketing@medicalwriters.org
Sorry, you've missed the RSVP deadline for this event.